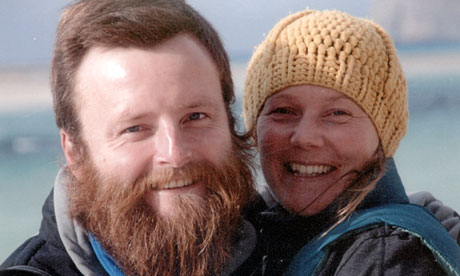 Peter Root and Mary Thompson
"If you obey all the rules, you miss all the fun." ~ Katherine Hepburn
I had tears in my eyes when watching this video of Mary Thompson and Peter Root. They were both 34yrs. old. These two took off on July 12, 2011, from England to go bicycle touring, ostensibly, around the world, but who really knew how long they'd be gone, eh? They had met in art school and now they were on a trek. On Feb. 13, 2013, a driver of a truck in Thailand hit them and, tragically, killed them while they were bicycling.
You know, in my intro to my website, I talk about that connectedness that all cyclists have? Well, these two were compatriots of the wheel. My compatriots. Even though I didn't know them. In fact, I didn't know about them until there was a notice in the news about these two cyclists being killed. Not knowing about them until they were killed doesn't lessen the connection we have. Those two wheels, that sense of adventure, that desire to get on the bike and go. We were connected. And I'm very sad that they died. As strange as it may seem, I'm also glad that they died together and while sitting on top of two wheels. My guess is that, given a choice, they'd have chosen that way to exit this world.
Peter's father, Jerry Root, said "They were both inspirational. They didn't just talk about it, they did it. I couldn't be prouder of them. They were camping wild, as they called it. What helps me is to think of how happy they were with each other. They were leading the life they wanted to. It was the happiest, the most fruitful of lives." How many people can say that about their kids' lives or their own? Not many.
Here's a brief story from The Guardian newspaper.
The video below is from
The Urban Country
blog, which is a bicycle transportation blog edited by James Schwartz. Schwartz has posted several articles on The Urban Country blog about these two and has spoken of that connection we, all cyclists, have with these two.
So, the tune to exit with today is in the video, "Hear You Me" by Jimmy Eat World. And may angels lead them in...